So you've brought home your adorable, male golden retriever puppy. Now is the moment you've been waiting for: It's time to name your new bundle of joy. What are some of the best golden retriever names for a boy?
Here are 15 of the best golden retriever names for a boy:
Charlie
Cooper
Max
Buddy
Winston
Beau
Bear
Vader
Simba
Harry
Murphy
Scooter
Rizzo
Brady
Kevin
Let's dive into what makes these names so great for your golden. We'll also feature comments from Lauren, golden retriever owner and curator of the Instagram account @dogsofwm on Instagram.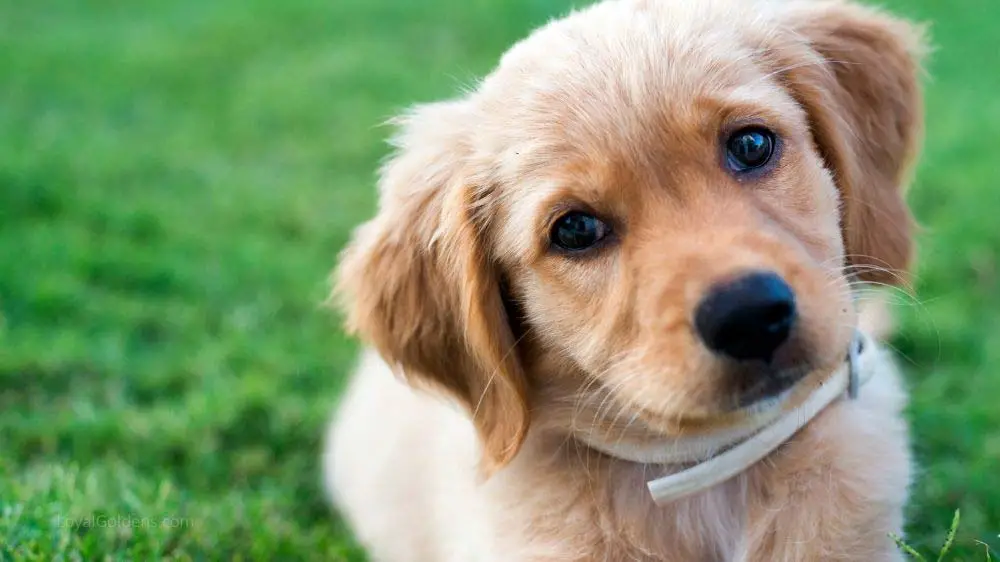 (This article may contain affiliate links and loyalgoldens may earn a commission if a purchase is made.)
Unlock your goldens natural intelligence and see just how quickly problem behaviors disappear.This is the best at home dog training I've ever used!
1. Charlie
We'll start with the supposed king of golden retriever names. 
For years, Charlie has maintained its rank as the #1 most popular name for golden retrievers. If you're going for a golden retriever name that the world agrees on, Charlie is the choice for you.
Lauren, however, cautions against Charlie.
"You're not wowing anyone with a dog named Charlie," Lauren explains. Charlie is classic for a reason. If you're looking for something unique, though, look for a name elsewhere.
2. Cooper
Cooper is another popular name that many dog-owners love. I can't argue with greatness and would go as far as to call Cooper the greatest golden retriever name of all time. It's fun and easily rolls off the tongue. 
Plus, you can nickname your dog Coop, which is just as adorable. 
Sorry, Charlie. Cooper is just that much cuter.
3. Max
Max is another all-time classic name for golden retrievers.
The name continues to rank highly among names for a boy. Unlike Charlie, Lauren thinks Max stands the test of time.
"Max is classic…you can't go wrong with a dog named Max," states the expert.
Have political aspirations for your golden? Then Max may be the dog name for you. Mayor Maximus Mighty-Dog Mueller II holds office over the California town of Idyllwild and has since 2014.
Whether for its old-school style or public persona, Max is an excellent name for your golden retriever. 
4. Buddy
Buddy, or "Bud" for short, is the perfect name for a sporty retriever.
Name a golden retriever "Buddy," and you immediately draw connections to the 1997 Disney classic Air Bud. Over twenty years since the movie's release, the film's legacy stands strong. 
Buddy is a great name that defines your dog's relationship with you: affectionate, loyal, and your closest pal. 
Lauren advises Champ as a potential alternate for Buddy. Because, of course, Buddy is the name of a Champ.
5. Winston
Winston offers both sophistication and nickname potentiality for your male golden retriever.
"This one is close to my heart because I had a childhood golden retriever named Winston," Lauren explains. "It's very sophisticated and has a lot of nicknames that can go with it."
Possible nicknames for Winston include:
Mr. Win
The Winman
Winnie the Pooh
A Winter's Tail
All I Do is Win
For the sophisticated house dog or the playful scamp, Winston has incredible versatility. If you're still unsure of your puppy's personality, it's a safe bet your golden retriever will grow into its name of Winston.
6. Beau
Want to shift the sophistication of Winston towards prep? Beau is the golden name for you. 
Beau translates to beautiful in French. With such a meaning, Beau practically ensures a gorgeous dog. If a pretty boy is what you desire, look no further than Beau.
You can also switch Beau's spelling to Bo, another classic dog name. Fans of the presidency will remember first dog Bo Obama, who recently passed. Naming your dog Bo is a great way to honor his legacy. 
7. Bear
Were the last two names too clean for your golden retriever? Bear lets your golden boy get in touch with his wild side.
Naming your dog after an animal is a classic dog-owner play. The name also provides a biting sense of irony.
"Goldens tend to be big and fluffy, but they're not really anything like bears," Lauren postulates.
What your dog lacks in ferocity, he makes up for with love and cuteness. If anything, your dog is probably more similar to a plush teddy bear, which makes the name even cuter. 
Lauren also recommended the name Moose for a more wild retriever.
8. Vader
Lauren suggests you name your dog Vader to lean even further into the irony of Bear.
Darth Vader is known for his all-black armor, red lightsaber, and general menace. At first glance, these are hardly traits we'd associate with a golden retriever.
It's this contrast that makes Vader such a compelling name for your dog. Because golden retrievers share so little in common with the iconic villain, Vader is a perfect antithesis to your dog's personality.
Are you looking for the other side of the force? Consider naming your dog Luke!
9. Simba
Ok, hear me out here. 
Yes, Simba is the name of one of the most famous fictional cats of all time. I'm also aware that Simba means lion in Swahili. 
But you can't deny that golden retrievers look more like lions than house cats thanks to their fur color and build! If you've got a long-haired golden retriever, the resemblance is uncanny!
Lauren wholeheartedly agrees. Fight us on this if you want, but we're firmly team "Simba" for golden retrievers.
10. Harry
The name Harry is both culturally relevant and relatively unique for golden retrievers.
"Harry can be named after Harry Styles, Harry Potter," Lauren exudes, "or any less significant Harrys." Other famous "Harry's" include:
Prince Harry, Duke of Sussex
Harry Connick, Jr.
Harry Houdini
Harry S. Truman
Harry Osborn (Spider-Man Franchise)
That's quite the list of famous folks.
Beyond fame, Harry is also a relatively uncommon name for retrievers.
For a name with both celebrity and distinction, try Harry.
11. Murphy
Let's be honest here: the name Murphy is flat-out adorable and it's a name that offers a sense of comfort. 
Murphy is sweet. Murphy is cute. Murphy is the perfect companion. Do you want your golden retriever to be a sweetie good boy? Name him Murphy. 
Don't like Murphy? Murray offers a great alternative. 
12. Scooter
Scooter is the perfect name for a speedy, athletic golden retriever.
Scooter implies a dog that, well, scoots. Imagine your golden running around, catching frisbees, and chasing squirrels in the park. Is this imagery your dream dog? Manifest this reality by naming your retriever Scooter.
13. Rizzo
Rizzo is an underrated name for golden retrievers. 
Rizzo gives your golden retriever a flair for the quirky. Expect Rizzo to be a bit of a doofus, but a loveable one at that. 
Rizzo also invokes the classic Muppet rat, a bit of a scamp himself. Should you choose to feed Rizzo cheese regarding his name originator, make sure to do it safely. 
14. Brady
Sports stars provide great names for your male golden retriever. As a New Englander, Lauren recommends Brady.
"He's the GOAT," implores Lauren. Although this writer is a New York sports fan, I can't help but agree.
Just don't let Brady meet any dogs named Eli, or else they'll lose in humiliating fashion. 
15. Kevin
I'll end this list with Kevin, the king of ordinary people's names turned to dog names. 
"I think it's hilarious when dogs have really common people names like Kevin and Fred," Lauren emphasizes. There's a special joy to talking to your dog like it's a person; Kevin makes that process even more accessible.
Fred provides similar comedic value, as well as options such as Dennis and Bartholomew.
A Few More Great Names For a Male Golden Retriever
If you're still having trouble deciding on a name for your good boy golden retriever, here are a few more top names to try on for size.
Bailey
Scout
Dash
Gus
Kobe
Baxter
Finn
Jack
Leo
Milo
Lucky
Bingo
Goose