The great thing about dog toys is that they not only keep your dog engaged, they also help you build a bond with your pup! Your golden retriever will lean towards toys that appeal to their highly energetic and fun-loving nature.
So, what toys do Golden Retrievers like to play with?
Toys that golden retrievers like to play with fall under three main groups – plush, interactive, and chew toys. Plush toys are used to play a game of fetch, while interactive toys let you and your dog play together, and chew toys are helpful, especially when dogs are teething or left home alone for the day.
In this article, we'll look at some toys that your golden retriever will love to play with that cater to their natural instincts.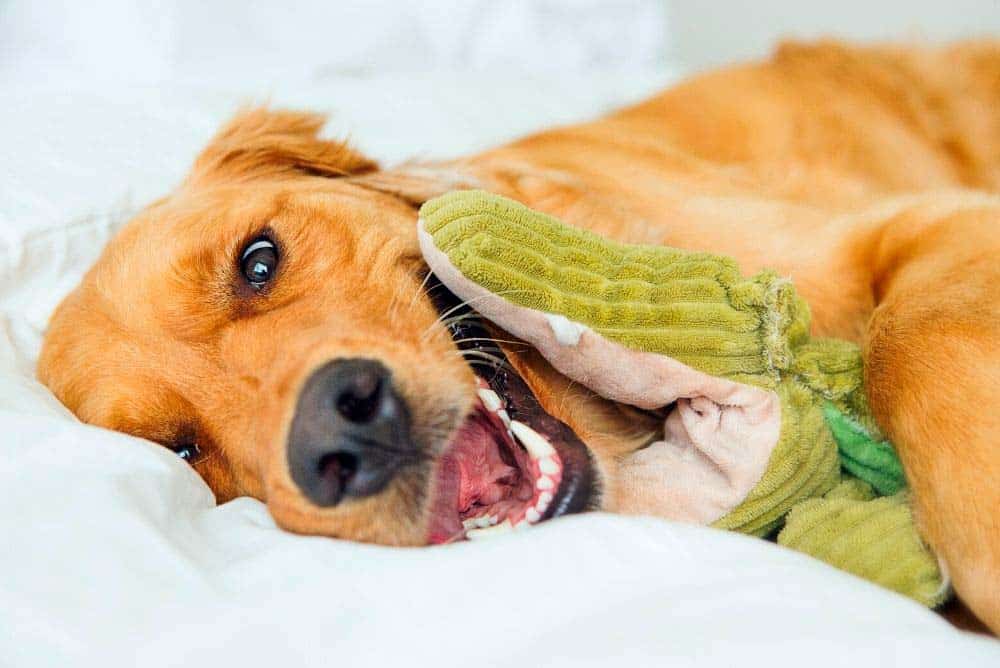 (This article may contain affiliate links and loyalgoldens may earn a commission if a purchase is made.)
Unlock your goldens natural intelligence and see just how quickly problem behaviors disappear.This is the best at home dog training I've ever used!
Plush Toys
For a golden retriever, plush toys mimic the feel of carrying waterfowl in their mouths (which is, of course what they were bred for). These soft, fuzzy toys often have a squeaker inside that make these toys more attractive to golden retrievers. Goldens will stop anything they're doing if they hear a squeak!
Soft plush toys, however, may not be the most ideal for golden retrievers who have a tendency to chew and rip things apart. Some retrievers show this inclination, especially in cases where the toy squeaks. A dog's natural instincts are to chew it apart to get to the squeaker inside.
Plush toys, on the other hand, are ideal for goldens who are gentle chewers. Golden retrievers are able to hold things in their mouth without damaging them. Due to this gentle nature of the breed, they love to play with plush toys and enjoy carrying them around in their mouth. 
A goldens favorite plush toys are the ones that are more realistic looking and are often critters they'd like to chase around in real life.
KONG Cozies Marvin the Moose
Marvin the Moose is a cute, soft and cuddly plush toy that your golden will love. It's made with an extra layer of material to help endure the general wear and tear it will be exposed to.
These plush toys are extra tough, guaranteeing a longer life in the hands (er, mouths) of your golden retriever. It will be fun to play a game of fetch with your retriever using this toy! It could also be used as a comfort toy for your furry friend to cuddle up with.
Discover how to train your Golden Retriever by playing games: 21 games to play with your Golden that will make them smarter and better behaved!
This soft and cuddly plush toy is very popular among dogs. Marvin is available in extra-large size as well, making it the perfect cuddle buddy for your golden retriever. The fact that this toy also squeaks makes it a very attractive plaything for your golden.
There is also minimal stuffing in this toy to help ensure that the mess is kept at a minimum if your furry friend decides to eventually rip it up. The toy is designed for gentle chewing, and normal wear and tear.
This toy is also machine washable, making life easier for you as the dog parent.
You can get the Marvin the Moose plush toy here at Amazon.
Leaps & Bounds Play Plush Avocado Dog Toy
This avocado dog toy is another plush toy that your dog will love playing with. It's great for playing a game of fetch or for gentle chewing. This small toy is cute to look at and has a vibrant green color that your retriever would love to chase.
The toy features adorable character details and has different textures from the polka-dotted feel on the exterior to the corduroy lines on the interior. They also have cute smiling faces to boot. My favorite part (and your goldens too) is the avocado pit inside is a tennis ball!
This avocado dog toy also makes a lot of squeaky sounds that your golden would love to chase and romp around with. It is ideal for a foraging style of play.
Due to its design, it's not as durable as some other plushy toys, however, making it more ideal for a light chewer.
Check out the Leaps & Bounds Avocado Toy here (Amazon).
Outward Hound Invincibles Dog Toy
This is one of the most popular squeaking toys around and will keep your retriever entertained for a long time. The toy is designed to keep squeaking even if it's punctured. Dogs love this toy, and with over five million of them sold, this squeaky snake toy (it comes in several shapes and sizes) will surely become one of your golden retriever's favorites.
This toy is durable and can easily withstand moderate chewers. Nevertheless, if your golden retriever does manage to rip it apart, the fact that there is no stuffing inside will ensure that there is no mess for you to clean up afterwards.
Being lightweight and super strong, it's perfect for a game of tug with your retriever. You can also build a bond with your dog by playing a game of toss or fetch with them both indoors and out.
If your dog loves squeaking toys, then you can get the Outward Hound Invincibles Toy here (Amazon).
Chuckit! Flying Squirrel Toy
Golden retrievers love to swim and engage in a game of fetch in the water. This Chuckit flying squirrel is perfect for in and around the water as it's made of lightweight and buoyant materials.
Even the medium-sized one, which is 10 inches by 10 inches, is large enough to play frisbee with your golden retriever. This spinning toy is aerodynamic and perfect for playing fetch in the yard or park as well.
The bright color of the toy attracts the attention of the retriever, making it possible for your dog to see it from a distance. It's a rugged and tough toy made of durable materials that are designed to withstand it all – from wet surfaces to gentle chewing and tossing. The durable canvas exterior makes it easy to keep this toy clean as it resists dirt and dog slobber.
The curved sides on the toy make it easy for your dog to easily retrieve the toy. Get ready to bond with your golden retriever over a game of frisbee with this Chuckit toy.
The Chuckit! Flying Squirrel (Amazon) is a ton of fun!
goDog Wildlife Rabbit
This realistic looking wildlife rabbit is made of high-quality plush material and has unique embroidered details that make the toy look more lifelike. It's also very lightweight, making it easy for your golden retriever to pick up and carry the toy in its mouth.
Due to the lifelike features, this will engage your golden retrievers hunting instincts, and your dog will love to play a game of chase with this wildlife rabbit toy.
It's also a perfect toy for your golden to snuggle with as well. This soft plush toy is made with chew guard technology that makes it resistant to aggressive chewing by your golden retriever. It's also double-stitched at the seams to be able to last longer than other standard plush toys.
A very popular toy among dog owners and can soon be a favorite part of your dogs toy chest!
Pick up the goDog Wildlife Rabbit here (Amazon).
Aurora World Miyoni Grey Squirrel
It's well known how distracted dogs can be in the presence of squirrels. Squirrels activate the innate hunting instincts in your golden. This life-sized grey squirrel plush toy is a very realistic looking toy. It's ideal for a game of fetch as well as some gentle chewing. At the end of a long day of chasing and chewing your golden can also use it for cuddling. 
This soft plush toy measures around 8 inches tall and is made of superior plush materials with impeccable attention to detail. Your golden will really love this squirrel!
Find out more about the Aurora World Miyoni Grey Squirrel at Amazon.
Interactive Toys
Interactive toys are those that help you bond with your golden retriever by letting you and your dog play together. These toys help to use up your dogs wild energy. Frisbees, tennis balls, and tug ropes are some examples of interactive toys.
Some of these toys also double up as chew toys for your golden. For instance, the tug rope is not only an interactive toy, but your dog can also use it by themselves. Most retrievers like to chew on the tug rope, and this further helps in improving the dental health of the dog—the smaller strands of the tug rope act as floss by getting in between your dog's teeth.
Interactive toys also provide mental stimulation to your dogs. These days the market is flooded with puzzle toys for your dog. These toys usually contain hidden compartments for hiding treats for your dogs. The golden retrievers will naturally sniff around the toy, and before long, they'll know that there are treats hidden inside the toys.
Then it becomes a mental challenge for them to figure out how to extract the treat from the puzzle box.
Nina Ottosson Outward Hound Dog Puzzle Toy
The Nina Ottosson Outward Hound puzzle toy is just the thing that your treat loving golden retriever needs to remain occupied for long stretches of time. When buying toys for your golden retriever, it's important to remember that they are a highly intelligent breed and love challenges. This trait makes the Outward Hound an ideal puzzle toy for your dog.  
It is a highly interactive hide and slide puzzle toy that'll help your golden use his mind to figure out how to retrieve the treats. This toy can also be used as a training tool where you teach your dog to sit and wait before you allow him to go ahead and search for the treats.
Outward Hound is made to look like real wood but is made of composite material that makes the toy resistant to damage and easy to clean. The wood-like appearance is especially appealing to the dogs. The toy does have moving pieces, but they are built in such a way that none of the moving pieces come out.
To play this game with your dog, simply place dog treats in the compartments and swivel the flippers to cover the food. Your golden retriever will know in an instant that there are treats hidden in the compartments and start poking the toy to figure out a way to get to them.
Planet Dog Orbee-Tuff Planet Ball
If your dog loves chewing on tennis balls, but you're worried that it may be made of toxic materials, then this Planet Ball is the answer. It is made of non-toxic materials and is free of BPA and phthalate. Your golden retriever can play and chew with this toy for as long as it wants.
If your retriever chews and destroys tennis balls in no time, then these Planet Balls are a good substitute. They are much more durable than normal tennis balls and are resistant to heavy chewing.
Planet Balls can bounce and float like any normal ball, and they're great for a game of fetch in the pool or in the yard, wherever your retriever prefers. Made of bright blue and green colors they are easy to spot when you're outside playing a game of fetch with your favorite golden retriever!
Mammoth Flossy Chews Cottonblend Color 3-Knot Rope Tug
This is a perfect toy for a golden retriever who's an aggressive chewer. The rope also serves as a great flossing tool for your dog's teeth as they chew. The cotton strands are safe for your dog and will be easily passed through your dog's digestive system if they are accidentally swallowed.
The rope toy is essentially used to play a game of tug of war with your dog. It's great fun to play this game with your dog, and it also helps them vent their pent-up energy, not to mention that it also gives both you and the dog a great opportunity to exercise and bond.
If you're playing outdoors, this multi-colored rope is easily visible from a distance. When not being used in a game of tug of war, golden retrievers love carrying it around in their mouths.
Kong Jump N Jack Dental Dog Toy
This toy can be used for a game of fetch, and due to its design, it has the added erratic nature in its bounce, which makes its unpredictability enjoyable for your golden retriever.
The red rubberized toy is created to be durable and to satisfy your dog's natural chewing instincts.
The strategically designed ridges help to clean teeth and gums for improved dental hygiene. It helps in gently cleaning in between your dog's teeth by removing plaque and food debris. This toy is sure to keep your golden stimulated for long hours.
Outward Hound Hide A Squirrel Plush Dog Toy Puzzle
The Hide A Squirrel dog puzzle is an easy way to engage your furry friends in a game of hunting, something that they instinctively love. All you need to do is fill the tree trunk with the three stuffed squirrels and toss it at your golden. The dog's natural hunting instincts kick in as they find the squirrels in their hideouts.
The hunt for the plush squeaky squirrels inside the tree trunk will be something a golden retriever will not be able to resist. Its stuffed plush texture is easy on the teeth, making it a great choice for your golden.
iFetch Interactive Ball Launcher for Dogs
Golden Retrievers are considered to be the fourth smartest dog breed in the world! Due to their high intelligence, these dogs need to be mentally stimulated on a daily basis in order to keep them from getting bored.
If you own a golden, then you know that you could spend hours on end playing fetch. While it's fun and gives you an opportunity to bond with your dog, it can get tiring after a while.
The iFetch Automatic Tennis Ball Launcher will keep your dog happy and busy for hours. This machine launches balls up to a distance of 30 feet.
You can adjust the distance to 10 or 20 feet as well. This toy comes in two sizes. So, you can purchase the smaller one for the puppy years and graduate to the larger one as your puppy grows.
Kong Jumbler Football Toy
The Kong Jumbler Football toy has a tennis ball trapped inside and gives off a loud squeak that's sure to engage your golden retriever. The exterior is like a football with handles that make it easy for your golden to grab it.
This football even floats, so your golden can have fun with it in the water. It's an ideal toy for interactive fun. Its durability allows it to endure tough play. This toy is available in red and blue.
Chew Toys
The general tendency of a golden retriever is to chew on things, and some are more aggressive chewers than others. Many times this leads to them chewing anything they could get their mouths on – from curtains to clothes to your prized running shoes, and this can, over time, become rather annoying.  
It's important to understand that your golden doesn't want to purposely destroy your things. It's just that their natural desire to chew is not being satisfied, which leads them to seek new objects around the house to chew on. This is where chew toys come in.
In addition to satisfying their need to chew on things, chew toys also help with teething in golden retriever puppies. Chewing helps relieve the pain and pressure of their adult teeth coming in. You will also need to have a rotation of chew toys so that your golden retriever doesn't get bored easily.
KONG – Classic Dog Toy
Kong Classic Dog Toy is one of the most popular and well-known dog toys in the world and is a favorite of golden retrievers. They are incredibly tough and durable toys that last for years. These red rubber toys help satisfy your retriever's instinctual needs and provide mental stimulation. The durable rubber material can withstand a lot of pressure from gnashing teeth.
This wobbly toy becomes even more enticing when stuffed with peanut butter or dog treats and keeps your golden busy for hours. This toy wobbles unpredictably, keeping your dog interested and challenged. They need to first control the wobbling and stop it from rolling away before they can reach the treats stuffed inside the toy.
The features of this wobbly toy make it both mentally and physically stimulating for your golden retriever. To top it off, it is also dishwasher safe making it very easy to clean up afterward.
West Paw Zogoflex Hurley Dog Bone Chew Toy
This durable dog toy will be a perfect gift for a golden, who's an aggressive chewer. Made of non-toxic materials, it's a safer alternative to tree branches for dogs who love to gnaw. This toy is available in several bright colors such as Aqua, Granny Smith, Ruby, and Tangerine and is great for an outdoor game of fetch. Due to its buoyant nature, it can also be used to play in the pool as well as the park.
The Hurley Dog Bone Chew toy is easy to clean and is machine washable and comes with a manufacturer 100% satisfaction guarantee.
Benebone Maplestick/Bacon Stick Durable Dog Chew Toy
If your dog loves to chew on sticks, then they'll love the Benebone Maplestick/Bacon Stick. These chew toys will be loved by your golden retriever as they are easy to grab a hold of and provide a very satisfying chew. If your golden is a super chewer, this toy is the perfect challenge for him or her.
This chew toy contains real maple wood flavor, something that your golden retriever will really enjoy and, hopefully, spare your furniture in the process.
Goughnuts Original Medium Dog Chew Toy Ring
These chew rings can withstand maximum pressure from your golden retrievers as they are designed for aggressive chewers. They are available in black, green, and orange colors and are made of tough and durable materials.
They also float well in the water making it a good multi-purpose toy that your dog will love!
Nylabone Power Chew Textured Dog Chew Ring Toy
The uniquely textured ring shape of this Nylabone product is easy to grab hold of and relieves your golden retriever's natural urge to chew. It's a really long-lasting dog chew toy made of durable nylon and promotes your dog's dental health as the ridges and nubs help prevent the build-up of plaque and tartar.
KONG Core Strength Bone Dog Toy
This toy is crafted to endure long chew sessions, and the textured body is great for cleaning your golden's teeth while he is playing with it.
Built to last, this toy works well for both interactive play (toss and fetch) as well as independent entertainment.
Conclusion
Golden retrievers are highly intelligent dogs who love to swim and play fetch. They also love to chew on almost anything. Buying toys that meet a goldens natural instincts will go a long way in making sure that your golden retriever will actually enjoy playing with them.
You do not want to get your retriever a toy that ends up being a choking hazard, so no matter what toy you buy them, always keep safety in mind, and it will pay off in the long run.  
Other Golden Retriever Articles You'll Love!