Golden Retrievers make amazing pets because of their warm and gentle disposition and fuzzy, extra-cute, golden fur that is synonymous with the breed. Unfortunately, keeping up with their shedding and fur can prove daunting, but the right vacuum can make the fur clean-up process a lot easier (and effective). However, you'll need to get a vacuum that's perfectly suited to picking up your Golden Retriever's hair.
The best vacuums for Golden Retriever hair include the Bissel Cleanview and the Hoover Maxlife. Pet vacuums should have powerful suction and great filtration to remove Golden Retriever hair successfully from the carpet or fabrics and should have features made especially for easy fur collection.
Do you want to add an effective vacuum to your pet-clean-up arsenal? Read on as we discuss the main features, pros, and cons of some of the best vacuums for dealing with Golden Retriever hair.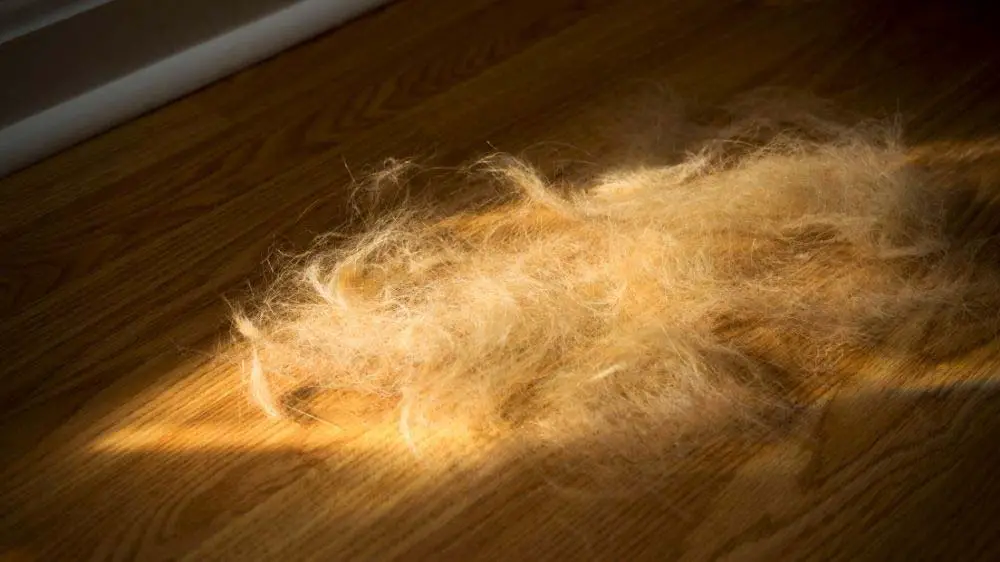 (This article may contain affiliate links and loyalgoldens may earn a commission if a purchase is made.)
Unlock your goldens natural intelligence and see just how quickly problem behaviors disappear.This is the best at home dog training I've ever used!
Bissel Cleanview Swivel Pet Upright Vacuum Cleaner
Meant primarily for hard floors, the Bissel Cleanview Swivel Pet Vacuum Cleaner can work wonders for households with Golden Retrievers. This bagless vacuum features a triple-action powerful brush roll that breaks down and captures deeply embedded dog hair.
To enhance the vacuum's overall effectiveness, the manufacturer integrated a scatter-free technology, which, together with other specialized pet tools (corner tool and pet tool), ensures that even the tiniest hairs are removed. 
Pros
Includes additional attachments or tools for dealing with Golden Retriever fur.
The swivel steering allows for easy navigation around furniture and potentially tricky surfaces.
Integrates edge-to-edge technology that allows you to pick up pet fur from one brush roll edge to another.
Scatter-free technology ensures you clean hard floors with minimal debris scatter.
Utilizes a multi-cyclonic suction system that guarantees extended performance without a significant loss of suction.
The unique triple action brush roll helps to loosen and lift Golden Retriever hair.
Cons
 The cord can be a hindrance when looking to vacuum hard-to-reach areas.
Eureka RapidClean Lightweight Cordless Vacuum Cleaner
Due to their high energy levels, Golden Retrievers are always on the move inside the house. Cleaning up their fur with a bulky, corded vacuum can make cleaning time a pain. But thanks to this cordless handheld vacuum cleaner by Eureka, cleaning up after your furry friend should be a breeze.
The Eureka Rapidclean Lightweight Cordless Vacuum Cleaner is powered by long-lasting batteries that give you an impressive 40-minute, fade-free runtime. It also comes with a useful fingertip control feature that allows for increased suction in extra messy areas. The relocated dust cap allows you to vacuum flat under furniture and beds with relative ease, which we all know is where Golden Retriever hair likes to hide!
Pros
Comes with LED headlights that light the way, especially when cleaning under furniture.
Designed to reach under furniture and beds, which removes every inch of Golden Retriever dirt and dog fur in the house.
The high-performance battery (rechargeable 25.2V Lithium-Ion) allows you to vacuum for up to 40 minutes.
Features a cordless design that increases the device's mobility and ability to clean hard-to-reach surfaces.
The unique cyclonic filtration system allows for the easy separation of dust, large particles, and fur.
Cons
The small dirt cup fills up quickly, meaning you might need to empty this canister vacuum cleaner several times, especially when dealing with a lot of dirt or Golden hair.
Hoover Maxlife Pet Max Upright Vacuum Cleaner
If you want a dual-action vacuum that can remove Golden Retriever fur from a hard floor or carpet with great ease, then you should consider the Hoover Maxlife Pet Max Upright Vacuum Cleaner. The vacuum cleaner comes with a high-quality, top-performing filter and can deliver great suction for extended periods.
The vacuum cleaner also boasts a pet tool kit that helps remove Golden Retriever hair embedded on furniture, stairs, fabric, and other surfaces. Impressively, the Hoover Maxlife Pet Max Upright Vacuum Cleaner comes with an Allergenblock technology that captures 97% of dust and pet dander, blocking them from re-entering and polluting the air. 
Pros
The suction is great for households with Golden Retrievers.
Comes with a pet tool kit for removing stubborn dog hair on different surfaces.
The allergenblock technology is beneficial for people with allergic reactions.
The 12 feet extended reach allows you to maximize the hose, quick release wand, and tools for a thorough cleaning.
Cons
This pet hair vacuum might be heavy and difficult to maneuver for some people.
Dyson Upright Ball Animal 2 Vacuum Cleaner
Although costlier than the other vacuum cleaners on this list, the Dyson Upright Ball Animal 2 Vacuum Cleaner boasts one of the strongest suctions on the market. This vacuum can easily remove stuck or built-up Golden Retriever hair from every type of surface. It also features a self-adjusting head that sucks at the perfect height across carpet, tile, wood, and vinyl flooring surfaces.
With this product, you also get combination tools that allow you to remove your Golden Retriever's fur in corners and crevices. As a high-quality fur-removing vacuum cleaner, the Dyson Upright Ball Animal 2 Vacuum Cleaner comes with a tangle-free turbine tool that removes stubborn pet hair from upholstery and carpets without tangling.
Pros
Comes packed with the famed Radial Root Cyclone technology that captures 98% of microscopic dust and dander.
The whole-machine filtration guarantees that all allergens are trapped and not expelled into the air, making the vacuum Asthma and allergy-friendly.
The long-reach hose and wand release in a single action, making it easy to clean under furniture and up high.
The powerful motorized brush bar ensures all surfaces are deep cleaned.
The cleaner head is self-adjusting to seal suction across different types of surfaces.
Comes with a 5-year warranty to justify the hefty price tag
Cons
Among the costliest vacuum cleaners.
Inse S6P Cordless Vacuum Cleaner
The Inse S6P Cordless Vacuum Cleaner comes with two 2500mAh rechargeable lithium-ion batteries that allow you to vacuum for up to 80 min on standard mode and 40 min on max mode. For enhanced performance, the stick vacuum features upgraded digital motors and extra-strong suction power to remove pet hair.
One standout feature of this vacuum cleaner is its versatility, as it can clean curtains, stairs, carpets, furniture, and even car seats (and floors), capturing an impressive 99.9% of microscopic dust while at it.
This stick vac also comes with a flexible hose, long crevice tool, retractable metal tube, motorized brush, and mini-motorized brush. All these components can be easily assembled into 10 different combinations to meet all your cleaning needs. Moreover, the flexible motorized floor head features a stiff roller to collect debris embedded in carpets and fabric.
There's no need to worry about the vacuum cleaner damaging floors as it comes with a soft-roller (with anti-static fiber) that provides extra protection to surfaces. The LED light allows you to clean in dark corners and beneath furniture, removing all embedded Golden Retriever fur, dust, and debris.
Pros
The cordless vacuum cleaner is highly portable and can perform up to 10 unique functions.
Features high-quality batteries that can function for up to 80 minutes on standard mode and 40 minutes on max mode.
Integrates a quick charge technology that allows you to use the device as frequently as needed.
Comes packed with a super powerful digital motor for removing stubborn fur from different surfaces.
Can manage an impressive 23Kpa suction to pick up deeply embedded Golden Retriever hair and dirt.
Is quieter than most other vacuum cleaners.
The extension tube allows for ease of use on different areas and surfaces within the house.
Cons
 The suction is not as powerful on standard mode.
Wrapping Up
Unfortunately, a regular vacuum is incapable of removing large quantities of pet hair from surfaces, especially a Golden Retriever's difficult-to-remove overcoat hairs. The good news is that all the vacuums discussed throughout the article can easily pick up hair from a Golden Retriever and perform other cleaning functions.
Vacuums that come with a variety of attachment or cleaning tools are especially ideal for households with Goldens. Narrow attachments can help you maneuver the tightest crevices and cracks, while brush-tipped attachments are ideal for removing hair from upholstery and carpets.
Sources