Golden retrievers have big furry coats that help keep them warm in the winter and cool in the summer. However, even their coats can't protect them from really frigid temperatures. So, should your Golden retriever wear a coat when the weather turns cold?
Golden retrievers need to wear a coat anytime it's below 45° F ( 7.2° C) if they show signs that they are cold. If the temperature is below 20° F (-6.7° C), they should remain indoors. If they must go outside, they should wear a coat and not stay out for long.
This article will go over the temperatures that are safe for Golden retrievers. Then, we'll discuss whether or not Golden retrievers get cold, how to tell if they are cold, and ways to help keep them warm all winter long.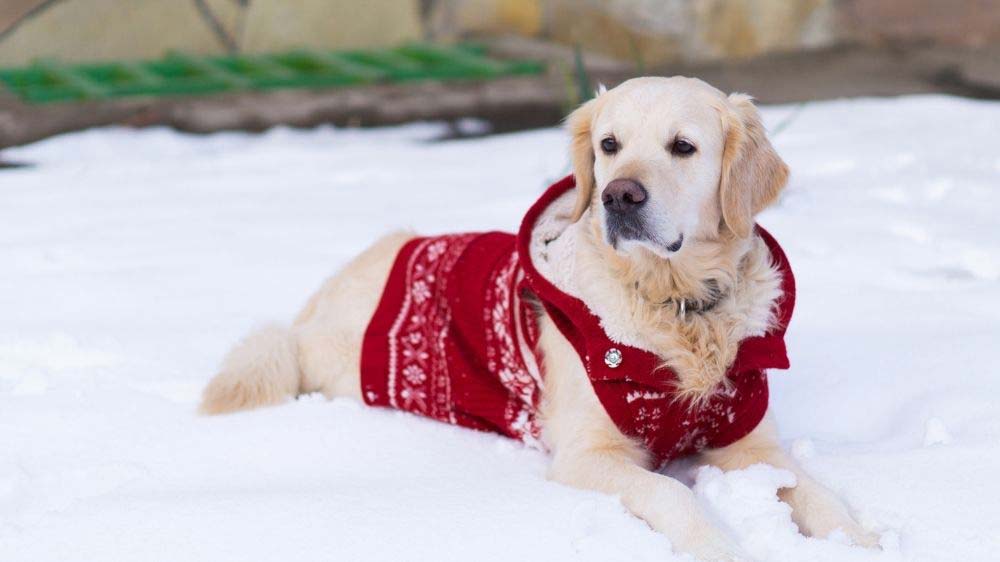 (This article may contain affiliate links and loyalgoldens may earn a commission if a purchase is made.)
Unlock your goldens natural intelligence and see just how quickly problem behaviors disappear.This is the best at home dog training I've ever used!
What Temperatures Are Safe for Golden Retrievers?
Golden retrievers can withstand a wide range of temperatures, but they are most comfortable when the weather is between 45 °F to 90 °F (7.2° C to 32.2° C). However, they can usually endure lower temperatures for a limited time.
Golden retrievers can handle different temperatures so well because they are double-coated dogs, which means they have an inner and outer coat of fur. Their outer coats are the coats you can see. They are typically longer than the inner coats and grow much slower. Their inner coats are short and grow pretty fast, which is why your Golden sheds heavily twice per year.
Golden retrievers' inner coats are essential because they provide insulation, permitting your pups to feel comfortable in frigid temperatures. They also protect them from the heat, keeping them nice and cool on hot summer days.
To keep their temperature regulation system in check, you should avoid cutting a Golden retriever's coat short, especially during the winter months. Also, try to keep your Goldens coats soft and matte-free, as matted hair can prevent their inner coats' from doing their job.
Recommended Reading: Do Golden Retrievers Have Hair or Fur? (A Golden's Coat)
Do Golden Retrievers Get Cold?
While a Golden retriever's double coat helps them withstand cool temperatures, they can still get cold if it's an especially chilly day out. If they are outside in freezing temperatures for too long, they can even develop hypothermia. We will go over several signs you should look for to determine if your Golden is getting too cold.
Signs That Your Golden Is Cold
Below, we've listed some signs you should look for during the winter months to determine if your Golden retriever is getting too cold:
They are whining and barking more than usual
Regularly lifting their paws from the ground
Refusing to move or walk with you
Limping on one or multiple legs
Shaking or shivering
Constantly trying to find shelter
They appear to be uncomfortable or anxious
If you notice that your Golden retriever is displaying any of these signs, bring them inside immediately to let them warm-up. Then, you can use some preventive measures to make sure they don't get that cold again (more about this below).
Signs That Your Golden Retriever Has Hypothermia
While you can generally avoid hypothermia by paying attention to your Goldens' behaviors, it's still good to know the signs of it just in case. Below, we've listed several indicators of hypothermia you need to be on the lookout for:
Their muscles become stiff
Acting sluggish or fatigued
Their pupils are dilated
Not paying attention to their surroundings
They lose consciousness
If you notice your Golden retriever is displaying any of these signs, take them to a vet immediately, as they may need medical attention.
To help prevent your Golden from developing this condition, don't ever leave them outside when the temperature is below 20° F (-6.7° C). This is considered to be too cold for a Golden retriever and can lead to hypothermia. If you need to let your Golden out for a quick potty break, allow them to do their business, then immediately bring them back inside.
Recommended Reading: How Long Can a Golden Retriever Play in the Snow? (The Facts)
Do Golden Retrievers Need to Wear Coats?
If the weather is below 45° F (7.2 ° C ) and your Golden retriever show signs that they are cold or you are planning to spend an extended amount of time outdoors, it's probably a good idea to put them in a coat. An insulated winter jacket will make them feel more comfortable in cool to frigid temperatures, and allow them to be outside for longer periods of time.
Best Coats for Golden Retrievers
Below, we've listed three top-rated coats you may want to consider buying for your Golden retriever to help keep them safe and warm throughout the winter months.
This red winter coat will keep your Golden retriever snug as a bug all winter long. This premium dog jacket is waterproof, preventing snow and ice from seeping in. It is also reflective, keeping your dog safe from oncoming traffic. The inside of the coat is lined with soft fleece, which is comfortable for Goldens with sensitive skin. Additionally, the collar area is surrounded by a thick layer of cotton wool, assuring your pups' necks remain nice and toasty. 
This cute dog coat is as stylish as it is effective. Its outer layer is made from water-resistant polyester fiber, preventing snow and wetness from chilling your dog's body. The inside is padded with a soft layer of cotton that is comfortable enough for your Golden to wear on the longest of walks.
Even better, this coat has reflective bars, ensuring your Golden retriever remains visible at nighttime.
Trust us. You'll fall in love with this coat's fashionable pattern options, high-quality stitching, and overall design.
This adorable winter coat is reversible, keeping your Golden warm and fashionable all winter long. One side of the coat is made of polyester fiber, which is waterproof and wind-resistant for windy and snowy days. The other side is made of soft, comfortable cotton, which is ideal for warmer days or cold days without any rain or snow.
Does My Golden Retriever Puppy Need A Coat?
A Golden retriever puppy should wear a coat or jacket any time the temperature is below 45° F ( 7.2° C). A Golden puppy is more susceptible to the effects of cold weather than an adult because their top coat has not grown in yet. A jacket will keep your Golden retriever pup warm, comfortable, and safe.
Golden retriever puppies are born with just their short under coats, and their top coat won't grow in fully for about a year. A puppies fur is unable to provide the same level of protection from the cold as that of an adult Golden retriever. So a jacket is always a good idea for a Golden retriever puppy when the weather is cool.
Additional Ways To Keep Golden Retrievers Warm
There are a few other things you can do to help protect your Golden retriever from cold weather. These things will help keep your Golden more comfortable and healthy during the winter months.
Never Shave Them During the Winter (Or Ever For That Matter)
As I mentioned before, Goldens need both their inner and outer coats to stay insulated during the winter months. If you shave them, you'll deprive them of their natural temperature regulator, making them more susceptible to cold and hypothermia.
This holds true for warmer weather as well. A Golden retriever's double-coat protects them from the sun and heat just as much as it keeps them warm in the winter. You should never shave a Golden retrievers coat, no matter what season it is.
Put A Sweater On Your Golden Retriever
We've been specifically talking about dog jackets for your Golden, but a dog sweater works too! A Golden retriever sweater, like the Mihachi Dog Sweater at Amazon, is a great alternative to a coat or jacket if the weather is cold but dry. A dog sweater has the added benefit of being more comfortable to wear in the house if it's cool inside as well.
Golden Retrievers and Dog Booties
Dog booties (Amazon) are a great way to keep your Golden retrievers paws comfy and cozy whenever they head out into cold weather. Most dog boots are durable and waterproof, keeping your dog's paws completely dry during your walks. The bottoms of the boots are anti-slip, helping to keep your furry friends safe on icy terrains.
Make Sure Your Golden Retriever is Dry Before Heading Outside (or Back Inside)
Never walk your Golden retriever when they are wet during the winter, such as right after bath time. Their wet coats will make them feel chilled to the bone, especially if it's windy outside. Therefore, you should always towel them off well, and give them several hours to fully dry before heading out into the elements.
Similarly, before you come back inside your house, remove any snow or ice that's become trapped in their coats as this will prevent them from becoming chilled once they're back in the house.
Never Leave a Golden Retriever Outside by Themselves in Cold Temps
If the weather is freezing one day or the forecast says that it'll get colder later in the day, don't leave your Golden retriever outside by themselves. If you leave them out while you go to work or run errands, you won't be there to keep an eye on them or see the signs that they are getting too cold.
As you know, being cold can quickly turn into hypothermia, so not being around to notice their signals is dangerous for your pets.
Recommended Reading: Can Golden Retrievers Live in Hot Climates? (The Facts!)
Conclusion
While Golden retrievers can withstand a wide variety of temperatures due to their double-coats, they can still get cold. If the temperature drops below 45° F (7.2 ° C ) and your dogs show signs that they are cold, feel free to put them in their coats. When the weather is below 20° F (-6.7° C ), you should always put them in their coats whenever they go outside.
Sources: