While we'd all love to spend every second with our beautiful Goldens, work and life responsibilities make that pretty much impossible. So, how long can you leave a Golden retriever home alone safely?
Golden Retrievers can be left home alone for four to six hours at a time, never exceeding eight hours. If your Golden Retriever is a puppy or a senior, they will need to be let out more frequently for potty breaks. Leaving your Golden home alone for longer than that will cause separation anxiety.
That's the short answer, but let's take a closer look at the issues around leaving your Golden Retriever home alone. Then, we'll go over some factors you should consider before you leave your Golden alone, whether or not you should crate them when you leave, and several ways to make your time apart better for your pup.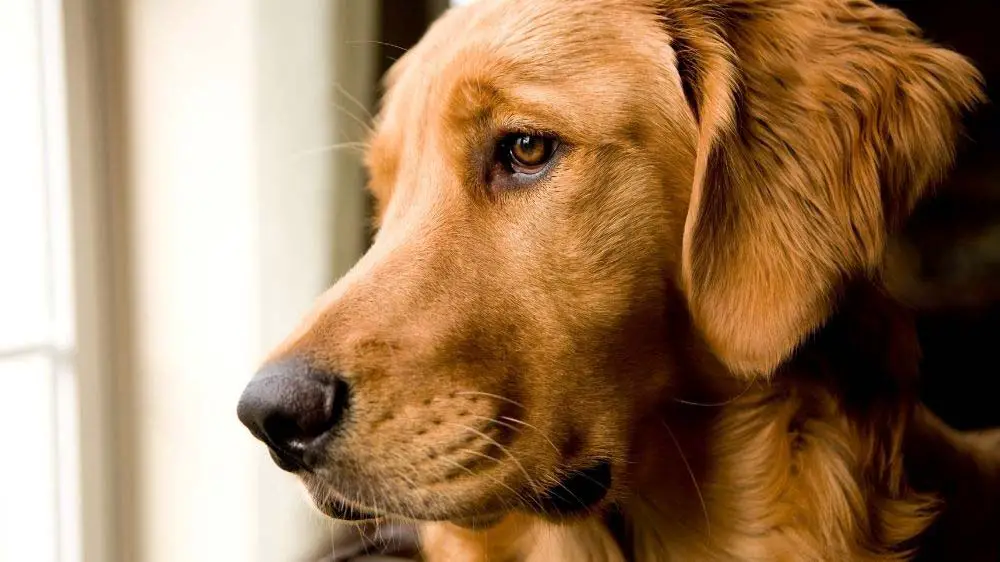 (This article may contain affiliate links and loyalgoldens may earn a commission if a purchase is made.)
Unlock your goldens natural intelligence and see just how quickly problem behaviors disappear.This is the best at home dog training I've ever used!
How Many Hours Can Goldens Be Home Alone? (Things To Consider)
If you work a full-time job or have other responsibilities that keep you away from your Golden, you may be wondering just how long it's safe to leave your pup home by themselves?
The general rule of thumb is that adult Golden Retrievers can be left alone for around four to six hours per day. Goldens definitely should not be left alone for longer than eight hours, as they can face severe mental and physical health consequences as a result of being regularly left home alone for too long.
While the general rule is that you can leave a dog home alone for six hours, and they should be ok, this doesn't apply to all dogs. If your Golden retriever suffers from separation anxiety, needs frequent potty breaks, or has health issues that require human assistance, then leaving them home alone for extended periods may not be a safe option at all.
Does Your Golden Have Separation Anxiety?
Separation anxiety (PDF) is when a dog feels overwhelmed when they are left alone, even for short periods. This syndrome is common among all breeds of dogs, but it is especially prevalent in breeds that are strongly attached to their owners, such as Golden Retrievers.
If you have an anxious dog, he or she may perform destructive behavior, such as chewing furniture, going to the bathroom all over the floor, barking uncontrollably, tearing down the window shades, and more whenever they are left by themselves. Some dogs may also excessively chew or lick their body parts. Typically, they'll start these behaviors around 15 to 20 minutes after you leave the residence.
(Find out how to tell if your Golden Retriever is lonely or suffering from separation anxiety in my post here).
If your Golden suffers from separation anxiety, leaving them home for four to six hours will be debilitating for their mental health. As a responsible dog owner, you'll need to work out accommodations for your pup while you're at work so they aren't alone all day. (You may even want to consider getting a second Golden Retriever or even another dog breed for companionship)
How Often Does Your Golden Retriever Need a Potty Break?
A healthy adult Golden Retriever can go 8-10 hours without urinating. Some Goldens may be able to wait to urinate even longer, but that does not mean it is a good idea to regularly leave your dog in this situation. Veterinarians generally recommend that an adult dog be given a chance to pee every 6-8 hours.
The number of bathroom breaks your Golden will need per day, and how often, depends on their age. If you have a young puppy, then leaving them home alone for six hours won't be an option since they constantly have to go. A good rule of thumb is that Golden Retriever puppies will need to relieve themselves the same number of hours as they are months old. So, for example, if your puppy is two months old, they'll need a bathroom break every two hours.
If you have an adult Golden Retriever, they should be able to hold it for the entire six hours, as long as you take them potty in the morning before work, and they don't have any health conditions that impact how often they need to relieve themselves. However, the exact amount of time varies from dog to dog.
If your Golden is a senior dog, they may lose their ability to hold it in as they age. While some senior Golden's can wait six hours before they need to go, others can only hold it for about two hours, especially an older dog who develops urinary incontinence. Therefore, you'll need to be mindful of your Golden's health status, and how frequently they need to pee to determine if they can be left alone for the entire six hours or not. 
A Golden Retriever, regardless of age, should always be given the opportunity to have an outside potty break immediately after eating or drinking. Also, remember that a new dog, of any age, will require some time to get used to her new home and routine. She may need more bathroom breaks than normal until she settles in.
If possible, a great idea is to install a doggy door like this one (Amazon) so that your Golden has the ability to urinate or defecate whenever they need to. This will provide a much more comfortable situation for them while you're away from home.
This is the one we have. It has three magnetic flaps that are great for keeping the summer heat and the winter cold out. It works great and your energy bill will love you for it!
Should I Leave My Golden Crated While I'm Gone?
Crating your Golden while you're away may sound like a great option, especially if they've been crate trained since they were a puppy. However, leaving your Goldens in a crate can negatively affect them if you leave them for too long.
As a general rule, you shouldn't leave your adult Golden crated for more than 6-8 hours during the day since, after this time, they'll likely need to relieve themselves. If you leave your dogs longer than this, and they end up going to the bathroom in their crate, they will feel uncomfortable and upset.
Additionally, if you crate your Golden at nighttime, leaving them in the crate for over six hours a day without a break plus seven or eight hours each night can be detrimental to their mental health.
I personally believe that crating your Golden Retriever while you're away at work day after day is a bad idea, and will end up causing more behavioral problems than it prevents.
So, while crates are a great tool that can keep your Golden safe and out of trouble, using them too regularly can negatively impact your pup's mental state. Use them wisely and let your Golden out as regularly as you can, so they can get the exercise and mental stimulation that they need.
Tip: If your Golden feels particularly comfortable and safe in their crate, you may want to give them access to the crate during the day by leaving the door open while you're away. That way your Golden Retriever can go in and out of his comfort spot whenever he chooses.
New Word Folding Metal Dog Crate – For Large Dogs
Ways To Improve Your Goldens Alone Time
If you plan to leave your Golden Retriever home alone regularly, there are some ways to make the time away from their favorite people more pleasant. Give some of these techniques a try:
Hire a dog walker. Even if you can only afford to hire someone once or twice a week, your dog will look forward to the exercise and human interaction. If you have the money, hiring a pet sitter or walker to give them a daily walk will break up their day and make the long hours away from you more bearable!
Put them into doggy daycare. I know that dog daycare isn't cheap and may not be in the budget on a daily basis, however, even putting your dog in a care center once per week can make a huge difference when it comes to their social well-being.
Provide them with mentally stimulating toys. As you already know, Goldens are incredibly clever. However, this also means that they can become bored really quickly. To rid them of some of their boredom, leave your dog with a fun mental toy like a Kong or a treat puzzle like these from Amazon. These will keep them entertained for at least a little while when you're away! Find a couple toys they like and switch them up to keep things fresh.
Put on the TV or radio. Try leaving on a station with lots of dialogue. Hearing human voices can be soothing for your dogs and make them feel less alone during the long hours you're away at work.
Visit them on your lunch break. While this won't be possible for everyone, unless you work close to home, visiting your Golden for even fifteen minutes can seriously improve their day. This will give you time to interact with them, let them outside to relieve themselves, and maybe take them for a quick walk around the neighborhood.
Interact with your dog using a pet camera. If you aren't able to get home for a lunch break or hire a dog walker, you can always check up on your dog using a pet camera like the Furbo Dog Camera (Amazon). You can use your phone to see what your pet is up to, listen and talk to them, and even use Furbo to give them a treat! This is a great way to keep your dog stimulated while you're away at work.
Conclusion
It is generally considered safe for a Golden Retriever to be left alone for four to six hours a day. Their time alone, however, should not exceed eight hours on a regular basis.
If your Golden Retriever is a puppy or a senior, you may not be able to leave them for long periods since they'll likely have to urinate more frequently. Additionally, if your dog suffers from separation anxiety, leaving them alone for extended periods can be detrimental to their physical and mental health.
If you choose to leave your Golden crated while you're gone, try to let them out at least once every six hours, so they can relieve themselves and stretch their legs. If possible, hire a dog walker or dog sitter to break up the boredom, or take them to a doggie daycare to make their time without you more enjoyable.
Sources: